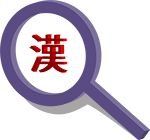 Kanji search
Type or paste any Japanese or English into the search area. Kanshudo will show you details of any kanji included in your search text, or any kanji with readings or meanings matching your search.
Click the '部' button to use the component builder to find kanji by radical / component. The component builder lets you find kanji using any combination of components. You can also go directly to component search in future by bookmarking this direct link to the
component builder
. For more information on the component builder, see our detailed
How to guide
. For a full list of all components used in the component builder, see the
Component details list
.
For a quick search for kanji, words and names contained in your text, use
Quick search
. If your search text might contain a conjugated word, use
Word search
.