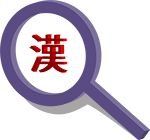 Japanese Dictionary Quick Search
Search the most comprehensive free Japanese dictionary available, with 13,500 kanji (including 3,500 with mnemonics), 260,000 words, 150,000 example sentences, nearly 500 grammar points, and over 600,000 names. All entries are prioritized according to their
usefulness
.
Quick search provides the most likely candidate results for your search across key search types (words, kanji, example sentences, grammar points, and the Kanshudo site). For more in-depth results, use the search switcher
in the navigation bar to run a category-specific search, or to translate whole sentences.
Enter Japanese, romaji or English, or use the Component Builder (部) to enter kanji. Quick search will display the most common kanji, words, names and examples matching your search, together with links for more detailed exploration by category.
For example:
Not the results you need? Please CONTACT US.