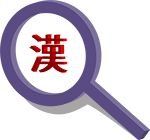 Name search
Type or paste a Japanese name (using kanji, hiragana, or English) into the search area. Kanshudo will search for names matching your search text. For example, try:
If you are only interested in the kanji, use
Kanji search
. If you are looking for the meaning of a specific word, use
Word search
. If you are not sure whether a Japanese term is a word or a name, start with
Quick search
.
If you are trying to identify common names, check out our name
collections
: