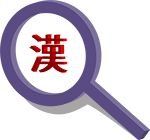 Japanese/English word search
Type or paste any Japanese or English into the search area. If you enter Japanese, Kanshudo will search for:
If you enter English, Kanshudo will search for any Japanese words which include your search in their meaning, prioritizing words which match your search exactly.
Click on any word in the search results to see more details and example sentences. Note: words will only appear once - ie, if a word appears in one category, it won't appear in another even if it also matches that category.